Message
Moving towards New Innovation with Expertise and Passion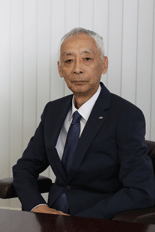 Since its founding in 1949, Tokyo Roki has continued to operate independently without belonging to any automotive company's Keiretsu. Without fear of the changing surroundings, we have always challenged ourselves to develop our own products.
"Our home is our castle and we protect it ourselves." This is the belief at the core of our company as we continually challenge ourselves. And now, the rationalized business operation built by the founder Hiroshi Takamura and the second president Iwao Takamura has evolved into a corporate culture that encourages each employee to exert self-discipline and tackle every work in all earnestness.
The world's automotive industry has undergone a huge change and become globalized. Tokyo Roki is no exception to this.  With plants in China, Thailand and Mexico, Tokyo Roki is truly turning into a major global player. We will never fear the changing times. We will make full use of our accumulated technologies and facilities, and our employees will combine their expertise and passion as we continue to challenge ourselves.
Tokyo Roki Co.,LTD.
Representative Director, President,
Iwao Takamura