Tokyo Roki's global network solutions meet the challenges of a rapidly changing world.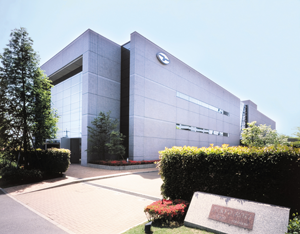 TOKYO ROKI CO., LTD. has the six domestic plants (Sagami Plant No.1,2 and 3 in Kanagawa prefecture, Kusatsu Plant in Shiga prefecture and Hiroshima Plant in Hiroshima-prefecture. Otsuki Plant in Yamanashi-prefecture).
We create the same network connecting headquarters, these plants, the six Research and development facilities and the two Associate Companies, which produce parts only for our products.
We also go global, having the plants(In China, Thailand and Mexico)and the sales offices located in various countries.

| | |
| --- | --- |
| Location | 3-12-3 Nakamachidai, Tsuzuki-ku, Yokohama-shi,Kanagawa Prefecture, Japan 224-0041 |
| Phone・FAX | :+81-45-945-8511 :+81-45-945-8510 |
| | |
| --- | --- |
| Shanghai Office | R2515,25FL, No.317 Xianxia Rd, Sec. B Shanghai,P.R. China 200051 |
| Phone・FAX | :+86-21-6235-0957 :+86-21-6235-0970 |
| | |
| --- | --- |
| Sagami Research Facility No.1 | 1-9-1 Tanashioda, Chuo-ku, Sagamihara-shi Kanagawa Prefecture, Japan 252-0245 |
| Phone・FAX | :+81-427-77-7201 :+81-427-77-7210 |
| | |
| --- | --- |
| Sagami Research Facility No.2 | 9806-1 Tana, Chuo-ku, Sagamihara-shi Kanagawa Prefecture, Japan 252-0244 |
| Phone・FAX | :+81-42-777-4021 :+81-42-777-4020 |
| | |
| --- | --- |
| Sagami Research Facility No.3 | 1-3-5 Tanashioda, Chuo-ku, Sagamihara-shi Kanagawa Prefecture, Japan 252-0245 |
| Phone・FAX | :+81-42-777-7881 :+81-42-777-7881 |
| | |
| --- | --- |
| Kusatsu Research Facility | 30 Aoji-cho, Kusatsu-shi, Shiga Prefecture, JAPAN 525-0041 |
| Phone・FAX | :+81-77-562-1301 :+81-77-562-1310 |
| | |
| --- | --- |
| Hiroshima Research Facility | 360 Saka, Mukaihara-cho, Akitakata-shi, Hiroshima Prefecture, Japan 739-1201 |
| Phone・FAX | :+81-826-46-2311 :+81-826-46-2213 |
【Main Factories】
| | |
| --- | --- |
| Sagami Plant No.1 | 1-9-1 Tanashioda, Chuo-ku, Sagamihara-shi Kanagawa Prefecture, Japan 252-0245 |
| Phone・FAX | :+81-427-77-7201 :+81-427-77-7210 |
| | |
| --- | --- |
| Sagami Plant No.2 | 9806-1 Tana, Chuo-ku, Sagamihara-shi Kanagawa Prefecture, Japan 252-0244 |
| Phone・FAX | :+81-42-777-4021 :+81-42-777-4020 |
| | |
| --- | --- |
| Sagami Plant No.3 | 1-3-5 Tanashioda, Chuo-ku, Sagamihara-shi Kanagawa Prefecture, Japan 252-0245 |
| Phone・FAX | :+81-42-777-7881 :+81-42-777-7880 |
| | |
| --- | --- |
| Kusatsu Plant | 30 Aoji-cho, Kusatsu-shi, Shiga Prefecture, 525-0041 JAPAN |
| Phone・FAX | :+81-77-562-1301 :+81-77-562-1310 |
| | |
| --- | --- |
| Hiroshima Plant | 360 Saka, Mukaihara-cho, Akitakata-shi, Hiroshima Prefecture, Japan 739-1201 |
| Phone・FAX | :+81-826-46-2311 :+81-826-46-2213 |
| | |
| --- | --- |
| Otsuki Plant | 2525 Hatakura, Nigioka-cho, Ohtsuki-shi, Yamanashi Prefecture, Japan 401-000 |
| Phone・FAX | :+81-554-23-1311 :+81-554-23-1315 |
【Overseas Factories】
TOKYO ROKI de MEXICO,S.A. de C.V.
Av. Mina de Guadalupe No.936,Colonia Santa Fe, C.P.36275 Silao, Guanajuato, Mexico


more

Phone・FAX
:+52-472-103-9100
TOKYO ROKI (Thailand) CO., LTD. Amata
700/682 Moo 1 Amata nakorn Industrial Tambol Phanthong. Amphur Phanthong.Chonburi 20160


more

Phone・FAX
:+66-38-079931 :+66-38-079934
TOKYO ROKI (Thailand) CO., LTD. Gateway
832 Moo 9, Gateway City Industrial Estate,Tambol Huasamrong, Amphur Plaengyao,Chachoengsao 24190 Thailand


more

Phone・FAX
:+66-38-575331 :+66-38-575334
| | |
| --- | --- |
| TOKYO ROKI (SUZHOU) CO., LTD. | 207 Xingpu Road, Suzhou Industrial Park,Suzhou, P.R. China 215216 |
| Phone・FAX | :+86-512-6281-8588 :+86-512-6281-8589 |
【Overseas】
| | |
| --- | --- |
| PT TOKYO ROKI SALES INDONESIA | SENTRAL SENAYAN2 16th Floor, Jl.Asia Afrika No.8, Gelora Bung Karno Senayan, Jakarta Pusat 10270, Indonesia |
| Phone・FAX | :+62-21-2924-1925 :+62-21-3005-0605 |
| | |
| --- | --- |
| TOKYO ROKI (USA),INC | 2625 Butterfield Rd., Suite 132N Oak Brook, IL 60523 |
| Phone・FAX | :+1-630-285-1950 |
| | |
| --- | --- |
| Daiichisangyo Co.,Ltd. | 3-12-3 Nakamachidai, Tsuzuki-ku, Yokohama-shi,Kanagawa Prefecture, Japan 224-0041 |
| Phone・FAX | :+81-45-945-8561 :+81-45-945-8512 |
| | |
| --- | --- |
| HYD-LIC CO.,LTD. | 3-23-9 Nakamura, Nerima-ku, Tokyo Prefecture, Japan 176-0024 |
| Phone・FAX | :+81-3-5971-6130 :+81-3-5971-6133 |
| | |
| --- | --- |
| Tokyo Roki Nagura Seisakusho Co.,Ltd. | 1045 Inasachouokuyama, Kita-ku, Hamamatsu-shi, Shizuoka Prefecture, Japan 431-2224 |
| Phone・FAX | :+81-53-543-0311 :+81-53-543-0314 |
| | |
| --- | --- |
| Tokyo Roki Yamamura Seisakusho Co.,Ltd. | 799-4 Oota, Shinasahi-cho, Takashima-shi, Shiga Prefecture, Japan 520-1512 |
| Phone・FAX | :+81-740-25-0300 :+81-740-25-0330 |